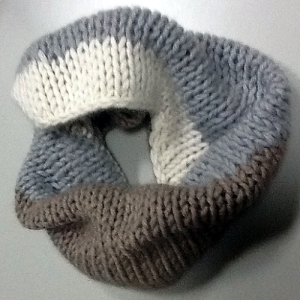 Our 3 Colours Cowl is so simple, it's perfect fot the absolute beginner. To knit a cowl, you only need to know how to cast on, bind off and knit. There is not a single  purl stitch in there!
When your project is completed, you will have a nice warm ring to drape around your neck. It will enrich the look of your basic turtleneck sweaters or help you with drafty necklines. For those chilly days when you need extra warmth, just tuck the cowl around your neck with a pin, it will also be a nice bright spot.
To knit a 3 colours cowl you will need 3 balls of So cashmere. Pick you your favourite colours, bright or mute, from our Pinterest page, think about adding a fourth colour to make the cowl taller.
You can download 3 coulours cowl from our Ravelry page.